Our 
2nd Annual International Payment Forum
2nd Annual International Payment Forum  – 
November 22nd & 23rd, Vienna
This year the event is put together with industry experts focusing on New EU Regulations and on Payment Innovations to see its impact on the Payment Industry today and how Banks can benefit from them which is the main reason our conference will have presentations both from the European Payment Council and The European Banking Authority alongside several case studies.
Our Past 
International Forums
Network with your Peers
Create Future Business
Elite Speakers
Expert View Points
Industry Driven Content
Knowledge is Power
C Level Experts
Expert Invite Only
Panel Discussions
Lets all get involved
Live Case Studies
Real life business experiences
Tamás Homlok – Erste Bank Hungary

Head of Payment
The video spot is very impressive about the last Payment conference which was held in Vienna last November
(Lots of interesting topics and experts) Congratulation!
Koloman Buzgo – ČSOB Finančná skupina

Head of Corporate Customer Solutions Division
I signed up for PSD2 workshop hoping to improve my knowledge … but I left with vastly more. I learned about the regulatory background. I had an opportunity to look inside the kitchen of the banks and third parties. Not only was the workshop both learning and challenging but it was fun
too. Thank you ICT Solutions for inviting me!
Gyozo Nagy – Raiffeisen Bank Hungary

IT Architect
Thank You very much, for the possibility to attend the PSD2 Workshop at Visegrád on 23rd June. As for me, it was a great event to widen my knowledge on the topic, because I am an (application) Network  Infrastructure Architect with the responsibility to support (among other things) PSD2
implementation of our Bank.  Istvan Toth PSD2 Architect of Raiffeisen also attended the workshop, and he could be benefited slightly different stuff from the event.
No Results Found
The page you requested could not be found. Try refining your search, or use the navigation above to locate the post.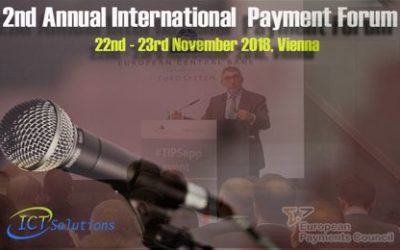 Javier SantamaríaI We would like to present Javier SantamaríaI to our 2nd Annual International Payment Forum as a key presenter. Javier Santamaría is the Chair of the European Payments Council has been working in banking since 1992, with a parenthesis spent as an...
read more